Aussie growers urged to plant swiftly and strategically as summer approaches
Aussie growers urged to plant swiftly and strategically as summer approaches
October 26, 2020
With a promising rainfall outlook raising grower morale ahead of the summer season, farmers are being urged to consider best practise planting techniques.
After battling difficult conditions over the past few summers, growers are itching to take advantage of the projected wet season ahead, and experts in the industry are eager to ensure that the opportunity is met carefully.
Pacific Seeds Summer Grains Agronomist, Trevor Philp is advising growers to make the most of their planting prospects as they enter a critical phase ahead of the summer cropping season.
"The importance of the planting operation is sometimes undervalued due to time pressure growers are under at this time of year, but good establishment is the cornerstone to a successful crop," said Mr Philp.
Seed metering
"To start, you'd look to meter the seed as accurately as possible so that the seed is consistently spaced. Most modern seed meters achieve high 90 per cent singulation, and growers should be targeting that.
"It's a pretty key element that will help farmers get off on the right foot. Some might not be seeing this level of singulation due to older equipment, incorrect equipment settings, or lack of maintenance.
"Yield loss due to poor singulation represents a significant potential profit drain for growers, and measures like basic upgrades and regular maintenance will help mitigate that risk.
"The seed then needs to be consistently planted at the right depth. The goal is to make sure the seed is in good moisture and is well pressed as issues that arise from shallow planting are often worse than deep planting.
"We want to conduct the planting operation without causing too much damage to the soil or over-compacting the seed. If we overpack that soil then it becomes really hard to get good soil and seed contact.
"You just have to plant what you can really well until the moisture runs out and then you stop. If you keep going and do a mediocre job of it, it then becomes a problem for every decision from then on whether it's irrigating, applying the herbicide, or applying insecticide.
"I know that many growers strive to strike the right balance, and the best thing you can do is have a good idea of your soil moisture and aim for consistent, quality planting."
Following rainfall earlier in the year and with recent forecasts anticipating the a La Niña weather pattern, promising moisture levels have many Aussie growers looking forward to a bumper summer crop.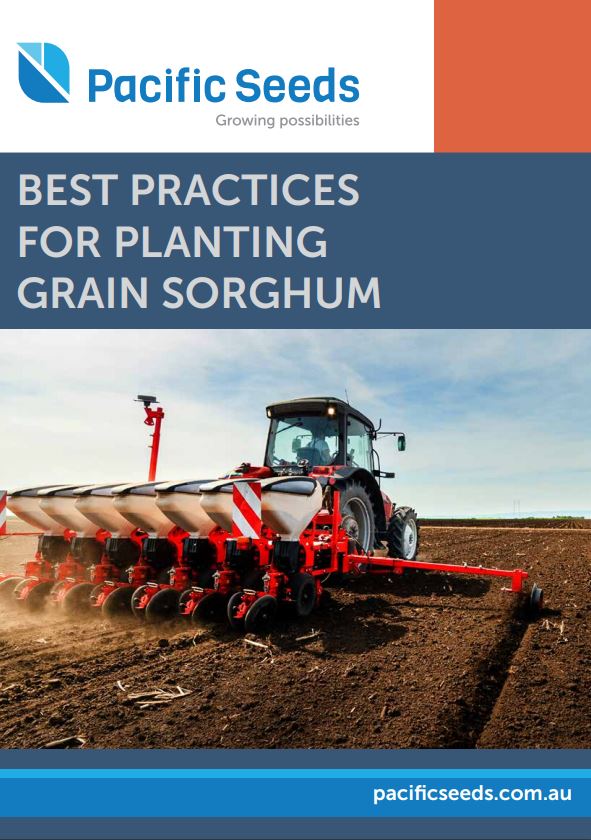 "It's a great feeling to know that so many growers are looking to this season with optimism, but there are some common planting mistakes that can have a flow-on effect for overall yield which can be easily avoided," said Mr Philp.
"Pacific Seeds recently launched a Best Practices for Planting Grain Sorghum Guide, which is a really great resource for growers heading into the summer cropping period.
"There are a lot of useful tips in that document, and our goal is to help growers enter the upcoming summer season with confidence."