Cecil Plains: Late sorghum proves a winner
Cecil Plains: Late sorghum proves a winner
October 1, 2021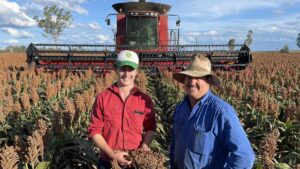 Original Article by Mark Phelps Queensland Country Life
Late planted Buster sorghum has proven a winner for the McGrath family at Cecil Plains, who were able to dodge at least some of this season's damaging wet weather.
Located on the eastern side of the Condamine River, John McGrath said the timing of the crop on Allawah meant it had not been sprayed out when the rains came.
"It's really been a bit of luck given how much rain we've had in what's proven to be a very wet year," John said.
"Fortunately we've been able to minimise the amount of spouted seeds on the later planted area, so it should go pretty well once we get the moisture down."
The wet weather has proven a big issue this summer, with significant areas of sorghum crops impacted by higher percentages of damaging spouting.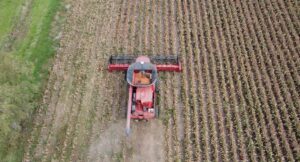 The Allawah crop was planted at a rate of 60,000 seeds a hectare using a John Deere MaxEmerge planter.
However, the crop had to contend with three floods. In early December, water depths of 8m were recorded at the Cecil Plains bridge followed by flood levels of 7m and 7.5m in late February and early March.
While plenty of the crop was standing in water, only 80ha of the 600ha crop required to be replanted. The crop will be harvested using a Case IH 6130 header fitted with a 9m front. The grain will be marketed by Gerard Doherty at Knight Commodities, Goondiwindi.
John, a graduate of the former Dalby Agricultural College, described Pacific Seed's Buster variety as the perfect all-rounder.
"When we go early we plant Buster, when we're on time we plant Buster, and if we are late we plant Buster," he said.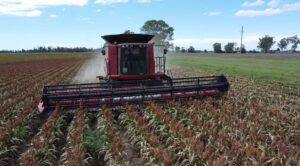 "It's just one of the varieties that we can really on and so we have stuck with it."
There is also 200ha of Crystal mungbeans in the ground.
"The mungbeans have performed plenty well considering the amount of rain we've had," Mr McGrath said.
"This season is been a case of the drier the ground was at planting, the better it has performed."
Allawah operates zero-till, controlled traffic farming system based on 3m tracks.