North Queensland farmer wins 2020 Mark Donaldson Memorial Shield
North Queensland farmer wins 2020 Mark Donaldson Memorial Shield
August 18, 2020
A prestigious dryland grain growing award has gone to a North Queensland farmer for the first time in its history, with Burdekin grower David Williams taking home the honours.
The Mark Donaldson Memorial Shield is awarded each year by Pacific Seeds to a deserving crop, with Mr Williams, who farms west of Home Hill, receiving the award for a crop of Resolute which yielded an average of 5.2 tonnes per hectare.
Mr Williams said he was pleased with the average yield and to be recognised in a region that is better known for cane.
"This is our third year growing sorghum in this paddock and it continues to improve," he said.
"We were fortunate to plant into a full moisture profile this year after we received over 200mm in just a couple of days at the end of January."
The red clay loam of the paddock meant that Mr Williams was able to get seed in the ground only five days after they received such a deluge.
"Being able to get the planter in so quickly meant we took advantage of a full moisture profile," Mr Williams said.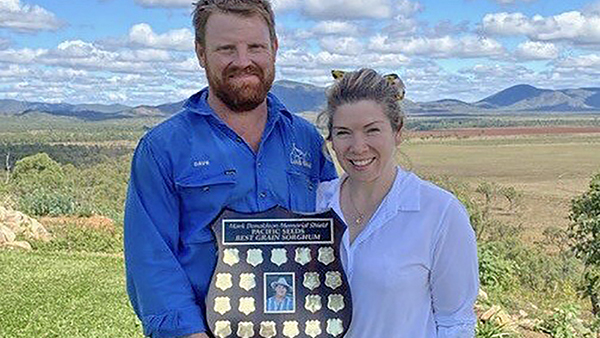 The sorghum was planted on 750mm rows at a 3kg seed rate and accompanied by fertiliser at planting and again in early March prior to another rain event.
"It really has been a wet year for us and while that comes with its benefits, it has also been a challenge bringing grain in dry and of good quality," Mr Williams said.
"We received over 250mm of in crop rain and then received another 50mm unexpectedly after we had already sprayed out.
"While we were very concerned about sprouting, the Resolute held on strong and we did not receive any downgrade in quality, it's definitely a seed variety that seems to suit our climate and one we'll be trying again."
The competition for the Mark Donaldson Memorial shield has traditionally focused on sorghum crops from the Queensland's Central Highlands, but has extended its reach this year in line with the continued growth of sorghum in northern Queensland.
Previous winners include the Donaldson family with MR-Taurus in 2019, the Gregg family with MR-Bazley in 2018, the Sampson family with MR-Buster in 2017, the Lund family with Pacific MR43 in 2016, Garry Gersbach with MR-Apollo in 2015, Ivan Gowlett with MR-Scorpio in 2014, Garry Gersbach with Pacific MR43 in 2013, David and Alan Storey with MR-Buster in 2012 and Alan Garside with MR-Buster in 2011.