Pacific Seeds' summer products fit the bill
Pacific Seeds' summer products fit the bill
September 28, 2021
As Aussie growers contest with wildly unique seasonal conditions and environments from state to state, seed producers are met with the challenge of not only creating products that can meet increasing needs for flexibility and adaptability, but that also ensure competitive yield outcomes.
Particularly during tougher Summer seasons, growers are constantly on the hunt for products that work well under pressure, and Canowindra-based growers the Morrow family believe they have found the products that fit the bill.
Originally dairy farmers on the Southern Highlands near Robertson, Phil and Sue Morrow sold off their herd in the 90's looking to make a change within the Ag industry and to find a bigger farm for their growing family.
The family acquired the property 'The Rivers' on the Lachlan river, with the aim to grow fodder crops as well as running stock.
The dominant summer crop grown for silage for use in dairy is corn, and Phil's son Stuart Morrow said ever since PAC 624 has been released it has been the family's dominant variety.
"You could easily believe that Pacific Seeds products are tailor made just for our operation as they suit our program so well," Mr Morrow said.
"We continue to have extremely good and consistent results with PAC 624 and this last season was probably our best result, achieving 83 tonne per hectare of green chop, and harvesting it at about 65 per cent moisture."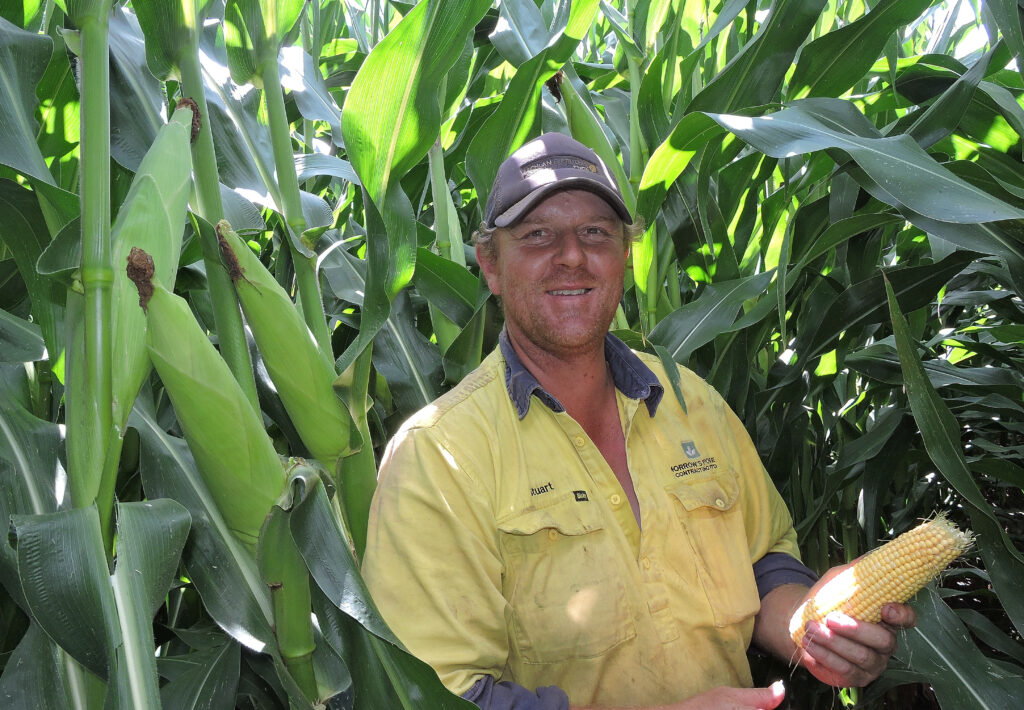 PAC 624 is considered the corn yield king, producing high volumes of quality silage and grain – offering growers large girthy cobs, high yield potential, better quality (starch) silage and grain, and more profit.
"We planted on the higher side at 82,000 seeds per hectare in early November and as a result our starch per cent is not quite as high as crops grown at 70-75,000 per hectare," Mr Morrow said.
"This last season we also planted later corn just before Christmas and chose Pacific Seeds' PAC 606IT due to it being a bit quicker, renowned for its good grain and starch content, and for the IT gene component.
"The paddock was coming out of a winter cereal rotation taken through to grain and we were concerned there may have been some volunteers. This made the IT gene really necessary, and we also made a point of spraying it with Lightning®.
PAC 606IT is a tough, 114CRM corn hybrid suited to both dryland and irrigation situations. With high disease resistance and the Imidazolinone-tolerant (IT) trait, PAC 606IT offers growers reliability and added grass weed control options.
"The end result was 68 tonne per hectare of green chop which we were very impressed with considering it was double cropped out of barley and planted late," Mr Morrow said.
With dairying still very much in their veins, the family decided to purchase a second property on the other side of Canowindra, which consists of 680 milking Holsteins and is run by Phil and Sue's daughter Linda and her partner Jamie.
While the original home property "The Rivers" remains a fodder factory for the dairy, Stuart Morrow said that grazing crops are also grown to fatten trade lambs, Wagyu, and Holstein.
"For summer forage we cannot go past BMR Octane, we have been growing it for years and it just works for us and fits into our operation perfectly for both the lambs and young cattle," Mr Morrow said.
BMR Octane is a premium quality forage sorghum with higher metabolisable energy and palatability, making it ideal for grazing, hay, or silage.
The hybrid is a proven performer with the added advantage of the BMR trait. BMR means the leaves and stems of the plants have lower lignin content, providing greater palatability, digestibility plus higher energy content – all leading to higher animal productivity.
"We grow it both under irrigation and dryland and it performs year in year out. In fact, we were still grazing it up until the recent frosts in the middle of May.