Three decades of grower confidence for fourth generation grower
Three decades of grower confidence for fourth generation grower
September 28, 2021
For many Australian farmers, their family history is deeply rooted in the agricultural industry, with generations of growers before them laying the foundations for the successful businesses still running today.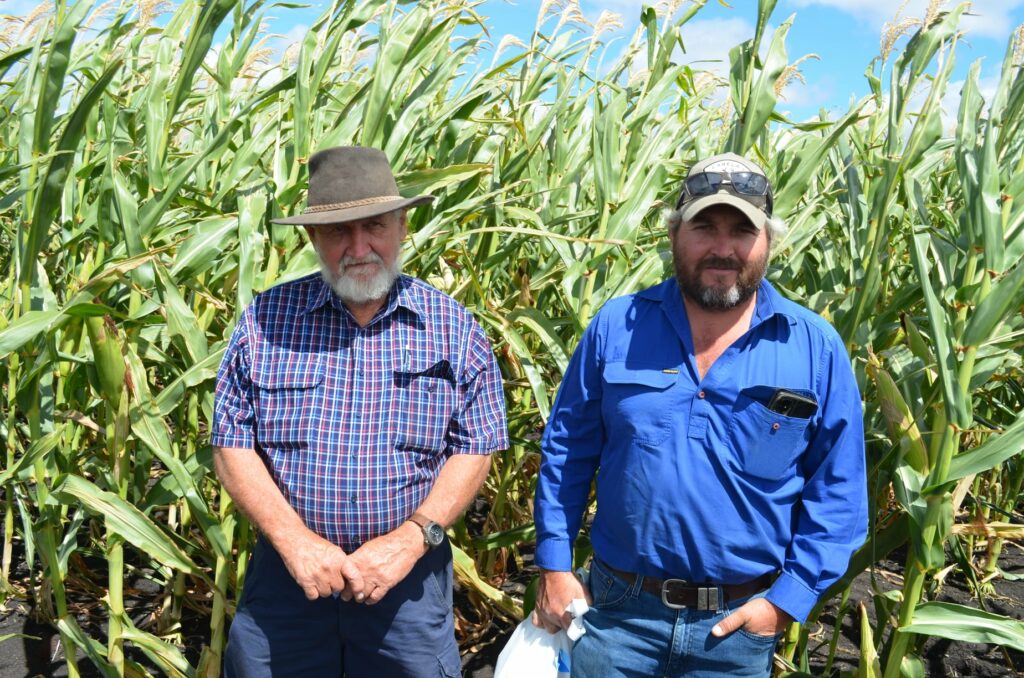 Darling Downs-based grower Melvin Mengel is a fourth generation farmer and currently runs a property at Nobby with his son Josh Mengel – a fifth generation farmer.
Mr Mengel said that agriculture runs in his blood, and he can trace his vocation back to the late 1800's when his family first settled in Australia, and that the family has remained on the same property his ancestors farmed those many years ago.
"I've been in the industry for my whole life and it's great that I can pass this down to my son Josh, and even my grandson Cameron, who is only 11 years old mind you, loves taking part – he has his own tractor and I think it's safe to say he'll be a sixth generation farmer," said Mr Mengel.
"We've been working with Pacific Seeds for 30 odd years – they look out for us, their products are reliable, and we know they work well for our property.
"Over that time we've taken part in a number of corn, forage sorghum, oat, and wheat trials for a range of different Pacific Seeds products, and event recently we've been trialling a few new products that aren't commercially sold yet and the yields were really impressive.
"So it's good to see that after 30 years of working with Pacific Seeds, they're continuing to produce products that raise the bar every time.
Our family history is really important to us and along the way we've developed some strong relationships with our community here and with the businesses we work with.

Melvin Mengel
Melvin is a well-known hay specialist in the area and over his career has honed growing techniques that help him achieve great results.
"When it comes to our forage sorghum, we usually plant about 10kg per hectare and then cut it at about shoulder height to achieve greater protein levels, which ultimately helps with milk supply and fattening up the cattle," said Mr Mengel.
"The main Pacific Seeds' products we use are Sprint and BMR Rocket for hay production, Octane for paddock grazing, and Sugargraze, which is more of a silage one or grazing one because it gets a big stem.
"In our most recent crop, the protein levels were really high and it had great sugar content and that's a great result – we know what we're using or selling for feed is top quality.
"We grow hay for a farm just up the road, one of the last dairy farmers left in the area. He always says to me that the right feed is a crucial part of his process. We know that the Pacific Seeds products we grow offer the quality he's after.
Even when faced with tough conditions, Mr Mengel said he is always impressed with how the Pacific Seeds products perform.
"Last year we planted our forage sorghum quite late in March because of the dry weather and were then faced with a bit of frost in May – but after even planting the forage sorghum that late in the season and under those conditions I was pretty happy with the result," said Mr Mengel.
"I know a few others who planted late and their crop didn't make it, so it speaks to the quality of Pacific Seeds that we got some sort of yield.
"When we submitted our data as part of the trial, even though it wasn't our best result, we thought it spoke volumes about the products being able to perform during extremely tough conditions.
"The Pacific Seeds products came through for us, and we were still able to produce crop for feed – which is all you can ask for when battling the elements.
"Then on the other side of the coin, when the conditions are good, I know to expect an excellent outcome.
"It will be great to see what comes of the next 30 years of working with Pacific Seeds.