Woodville farmers finish cropping season on top
Woodville farmers finish cropping season on top
May 15, 2020
The Vollmer family at Woodville near Maitland have finished their corn and forage growing season on a positive note despite challenging summer conditions. Dave and his wife Clare, his parents Alwyn and Janette, and his brother and sister-in-law Tony and Bree run dairy farm 'Glen View'.
Dave Vollmer said they grew a double crop of corn for pit silage and grazed and baled a crop of forage sorghum while contending with extreme heat and dry as well as a powerful storm.
"We planted our 30 hectares of PAC 624 on November 1 at 85,000 seeds/ha which came through the extremely hot and dry summer very well," he said.
"We ended up chopping it about 10 days early in early February because there was a big east coast low with 300mm of rain and a lot of wind predicted.
"I'm really pleased we made the call because we ended up with over 250mm with the expected wind.
"It might be a bit on the wet side, but at least it's all in the pit and not flat on its back or washed down the river."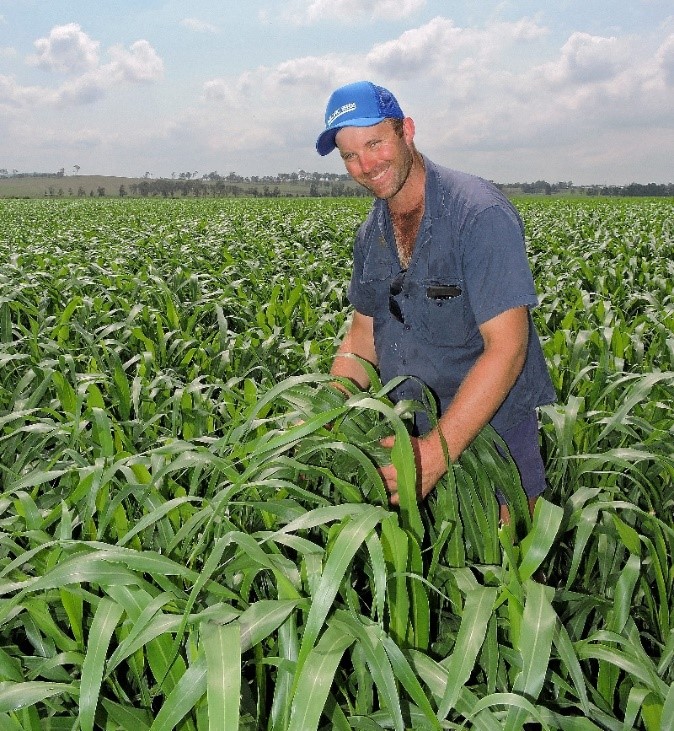 The farmers have been growing PAC 624 for six years now as their main hybrid for silage production for the dairy.
"We really like PAC 624 as our main hybrid because it gives us a good yield coupled with excellent quality and last season it yielded 70t/ha of green chop."
Accompanying the PAC 624 for the November sowing was a small area of a quicker maturing corn to get the program moving.
"We planted a bit of quicker corn just so we could have silage coming in sooner and it spreads our risks as well.
"We turned around and planted the same quicker corn in the same block in February and it came through really well when we chopped it mid-May.
"Double cropping corn isn't something we normally do, but last season being what it was, it forced us to try to make every post a winner and it certainly paid off for us."
Mr Vollmer said their forage program also went well despite the weather disruptions.
"We grew a few different types of forage sorghums but we should've just stuck to Superdan 2. It's a much better product for us and our hay requirements.
"We've grown Superdan 2 for years now and it is still the best for hay in our minds."
The Vollmers planted the 4ha block on December 28 and were looking to cut it until the rain began in mid-February
"We made the decision to strip graze it in front of the rain and then it stayed fairly wet for the next six weeks.
"That meant it was taller than we would have liked to cut and wrap for silage, but at least we were able to put it away in round bales."